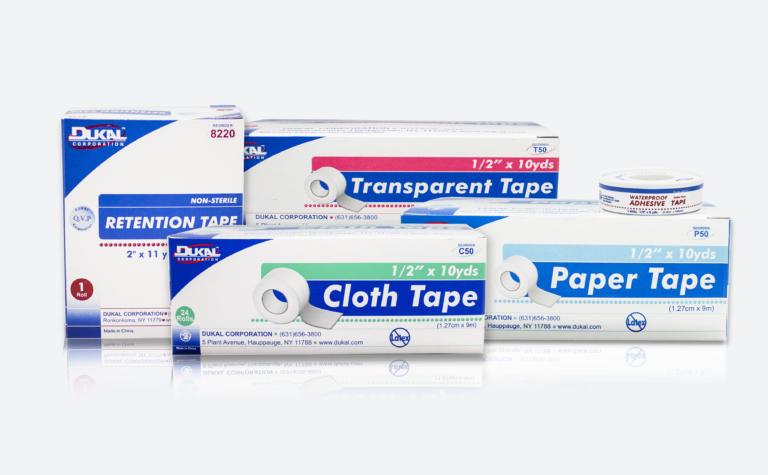 21 Things You Need to Know About Medical Tapes
There are a wide variety of tapes used in the medical industry. Three of the most commonly used medical tapes are paper, transparent, and cloth. Other types of medical tape include retention tape, waterproof tape, and silicone tape. We rounded up a list of 21 things you should know about using medical tapes in a wound care setting.
Medical tapes are used to secure dressings.
Medical tapes are commonly called surgical tapes.
When applying medical tape, a few different factors may influence which type you choose. These may include age and integrity of skin, oiliness of the skin, or sensitivity to certain adhesives.
Before you apply tape be sure to evaluate the application site.
If you are using a secondary dressing, we recommend having at least 1 inch of tape on either side of the dressing so it will properly adhere and isn't easily pulled off.
Be aware, if taping over excess hair, that the tape may not adhere well to the skin and can also be more difficult to remove. OUCH!
Medical tapes go by a lot of different names. Paper tape is often referred to as Micropore® tape, and transparent tape or plastic tape is often referred to as Transpore® tape. Cloth tape is often referred to as Durapore® – these are commonly used because they are brand names of the market leaders.
It is important when using adhesive tape to never place directly over a wound.
Paper tape is lightweight, microporous and will hold even when wet. It is gentle on sensitive skin and is recommended for delicate or elderly skin.
Cloth tape is also commonly described as silk tape or soft cloth.
Cloth tape has a strong adhesive; however, it is designed to leave minimal residue on the skin. It can be torn bilaterally without the use of scissors.
The best way to get cloth tape to stick is to make sure you apply the medical tape without tension and gently stroke the surface to maximize adherence.
Transparent tape is water-resistant, but it is not a waterproof tape!
Transparent tape is perforated and can easily be torn in any direction.
Single-use medical tape rolls are all available in cloth, transparent, and paper versions – this is perfect for individual patient use to help reduce cross-contamination and waste.
Retention tape can be used to securely hold wound dressings.
Some retention tape brands feature a printed S-Curve release liner for easy application.
Retention tape is pre-cut to reduce excess waste.
Waterproof tape is flexible and easy to tear.
Waterproof tape must be applied to dry skin in order to adhere well.
All DUKAL's Medical tapes are not made with natural rubber latex.